RHCSA 8 Practice Exams | EX200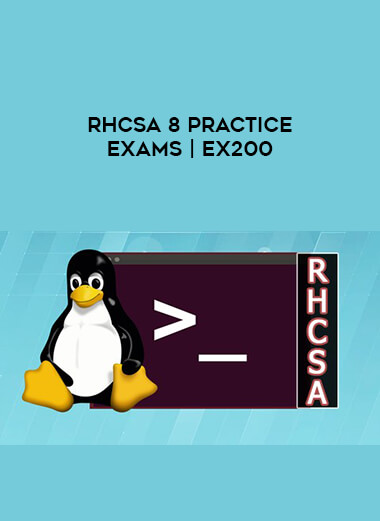 Salepage : RHCSA 8 Practice Exams | EX200
Arichive : RHCSA 8 Practice Exams | EX200
If you want to test your skills and make sure you can pass the RHCSA 8 (EX200) Exam to get your certification, you are in the right place!
These practice exams have helped many trainees all over the world pass the RHCSA 8 | EX200 exam and get their certification. Why not be one of them?
Hi, I am Ghada Senior Linux administrator, web developer, and online tutor currently. I have prepared this course for anyone seeking to pass the EX200 exam. But first, you must have studied Red Hat System Administration I (RH124) and Red Hat System Administration II (RH134) or the RHCSA Rapid Track (RH199) course combining these courses, or have similar work experience as a system administrator on Red Hat Enterprise Linux.
After passing the exams, you can be sure that you can pass the real EX200 with a high score and get your certification.
I will be with you along the way for any inquiries! Feel free to send me a direct message at any time.
About the EX200 Practice exams:
Multi-choice/Multi-selection practice exam questions.

You should be able to complete the tasks without assistance.

Your role will be to test your skills in the real environment and then select an appropriate answer.

If your answer to the question is incorrect, you can see the correct answer after completing the test.

As with all Red Hat performance-based exams, configurations after reboot should continue without interference.

Ensure all tasks are executed with firewalld and SELinux enabled.

You can retake the exams as many times as you like.
These practice exams also come with:
✔ Lifetime access to all future updates
✔ A responsive instructor in the Q&A Section
✔ A 30 Day "No Questions Asked" Money Back Guarantee!