Pimsleur – Japanese I, II, III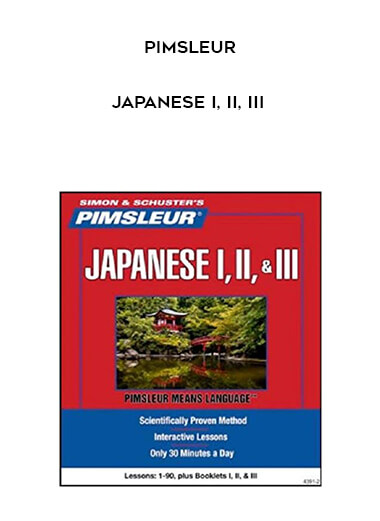 Salepage :
Pimsleur – Japanese I, II, III
Arichive : Pimsleur – Japanese I, II, III
Synopsis Maximize your savings by purchasing Pimsleur Comprehensive Japanese I, Pimsleur Comprehensive Japanese II and Pimsleur Comprehensive Japanese III all together! With Pimsleur Language Programs you don't just study a language, you learn it — the same way you mastered English! And because the technique relies on interactive spoken language training, the Pimsleur Language Programs are totally audio — no book is needed! The Pimsleur programs provide a method of self-practice with an expert teacher and native speakers in lessons specially designed to work with the way the mind naturally acquires language information. The various components of language — vocabulary, pronunciation and grammar — are all learned together without rote memorization and drills. Using a unique method of memory recall developed by renowned linguist, Dr. Paul Pimsleur, the programs teach listeners to combine words and phrases to express themselves the way native speakers do. By listening and responding to thirty minute recorded lessons, students easily and effectively achieve spoken proficiency. No other language program or school is as quick, convenient, and effective as the Pimsleur Language Programs. Product Identifiers ISBN-10 Japanese ISBN-13 9781599128498 Key Details Author Paul Pimsleur Format Digital Audio Files, Other Publication Date 2005-05-01 Language English Publisher Iofy Corporation Target Audience Group Adult Education Certain data records © 2013 Bowker. Rights in cover images reserved by owners.