Milton Erickson – Live Seminar, Phoenix 1977 plus Wizard of the Desert DVD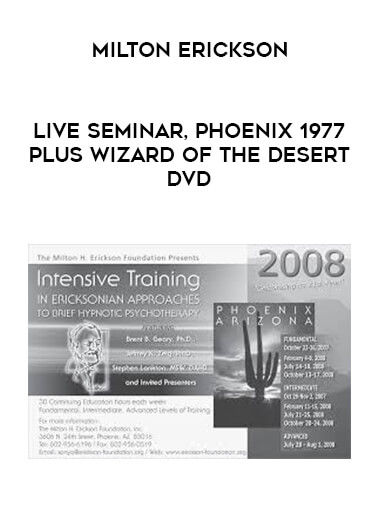 Salepage : Milton Erickson – Live Seminar, Phoenix 1977 plus Wizard of the Desert DVD
Arichive : Milton Erickson – Live Seminar, Phoenix 1977 plus Wizard of the Desert DVD
Dear Colleagues: Here is why I think we should spend many hours over and over again watching Milton Erickson work. Every time I watch him I learn something new on some level and discover that it has woven itself into my own work in it's own way.
It is true that Dr. Milton Erickson said, "Don't imitate my voice, or my cadence. Just discover your own. Be your own natural self." He also said, "Trust your unconscious; it knows more than you do." I believe that in NLP (Neuro-linguistic programming), "pacing", "leading", etc. are all linear descriptive techniques of how Erickson was able to "tune in to" the unconscious of his students/patients and join them. In teaching hypnosis, beginners can use scripts, but I believe that as students advance they let go of the scripts  and communicate from their own unconscious so they are 100% present with their subjects.
Modeling excellence in someone else is only the first step. You then integrate it into your own unique essential self. I think that Erickson was such a powerful master because he was so at home with his own unconscious that he made it safe for people around him to open up parts of themselves hitherto unrecognized. I think NLP gives techniques, but then the techniques become powerful in treatment when you do them out of your own unconscious in your own way in your own rhythm and in your own style. When you do that your patient can feel safe and trust you. As Erickson said that when you try to imitate someone else, "It's a hollow pretense and the patient knows it."
I hope this will be helpful and that you will continue to learn from this magnificent and powerful human being.
Jane A. Parsons-Fein, LCSW, BCD, DAHB
RARE TEACHINGS FROM A RENOWNED MASTER
Milton H. Erickson, M.D., was one of the greatest innovators in the fields of psychotherapy and therapeutic hypnosis. He demystified hypnosis, and he created new and revolutionary approaches to working with the unconscious. Freud defined the unconsciuous and analyzed it; Erickson conversed with the unconcious of each student, as they moved from level to level together. He brought the unconcious into our everyday experience of ourselves.  He said, "Trust your unconscious; it knows more than you do!" He continued to bring new healing possibilities into the world.
About Milton Erickson DVDs
This DVD set (6 Disks) contains 35 hours of Dr. Erickson conducting training sessions with a group of select students. They were filmed by Jane Parsons-Fein from October 3rd through October 12th, 1979, in the small room next to Erickson's office in Phoenix, Arizona. These DVDs are available to lisenced professionals. To order please fill out the qualifying order form here.
About the Collectors Edition Book of Verbatim Transcripts
This beautifully-bound limited edtion hardcover book is the verbatim transcription of Volume One of the 35-hour DVD video series: "In The Room With Milton H. Erickson, M.D." This series features Milton Erickson training a group of select students. This Collectors Edtion book of 254 pages of verbatim transcripts are available to everyone for purchase, click here to purchase.
BEGIN YOUR JOURNEY WITH VOLUME ONE
This first of three volumes consists of 12 hours of this training on six discs. Footage has been minimally edited to provide you the maximum opportunity to experience Erickson himself. Optional subtitles facilitate your listening, and a menu of teaching stories enables you to return to specific sections for repeated viewing and study.
In these evocative sessions students conversed with Erickson as he went in and out of trance with them. Then they returned home, enriched their lives, and enhanced their work. Erickson's comfort with his own unconscious made it possible for people to develop deeper trust in themselves. His carefully chosen words enabled students to join him, opening their own unconscious to new feelings of self-awareness and self discovery. Watching these captivating DVDs is the closest you can come to learning directly from Erickson himself and sharing in the experience that many people had in his presence. All you need to do is relax and enjoy listening to him on unconscious levels. As a professional, you can observe his artistry and integrate what you learn into your own ways of working. Repeated viewings lead to further discoveries of what these rich teaching sessions have to offer.
Owning these DVDs will add clarity and depth to your teaching. Also as a gift to yourself you can go back to them repeatedly. Each time you can rediscover something you hadn't noticed before, but may have already known. Owning the transcripts will enhance your recognition of his impecable elegant use of language. Not one word is irrelevant.
Erickson was clear about the negatives in life and moved with them with such wit, humor, and acceptance that in his own way he transformed them. He was committed to the human possibilities for joy. Perhaps the more you listen the more you can experience yourself in new ways. As you open your heart you can develop new perceptions about the complexity and beauty of life itself.
Summary: 35 videotaped hours of Erickson teaching in the intimacy of his private offices in Pheonix, Arizona from October 3rd-12th, 1979.
  Volume 1 (of 3) currently available for purchase.
  Each volume contains 6 DVD's; 12 hours of rare footage per volume.
  A complete transcript in book form (254 pages) is also available for purchase.
  The DVD's come equipped with subtitles that can be turned on or off.
  Beautiful color and remastered sound.
  A priceless resource for the professional with an interest in hypnotherapy.
  $360 for Volume 1 plus Shipping and Handling.
 Beautifully-bound limited edtion hardcover book. $100