Masterflirt – Workshop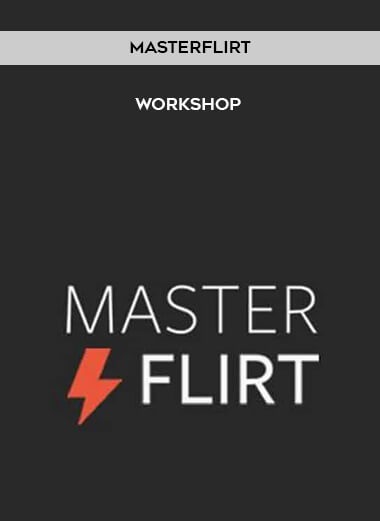 Salepage :
Masterflirt – Workshop
Arichive : Masterflirt – Workshop
Sinds 2001 geeft MasterFlirt workshops op het gebied van "Persoonlijke groei als man en succes met vrouwen". Onze workshops en seminars worden continue fijngeslepen en geperfectioneerd. Het is doel is jou te voorzien van de perfectie combinatie van theorie en praktijk.
Of het nu gaat over het nog beter worden met vrouwen, jouw relatie naar een hoger plan te tillen, of vol in jouw kracht staan als man. Onze workshops en seminars zullen jou hiervoor van de juiste tools voorzien. Bekijk hieronder wat wij jou te bieden hebben. 
de MASTERFLIRT Bootcamp
Zelfverzekerd en consistent de vrouwen aanspreken tot wie jij je aangetrokken voelt. Zodra een kans zich voordoet, die kans zelfverzekerd en ontspannen daadwerkelijk grijpen. De tools in handen hebben om een positie van overvloed aan vrouwen in jouw leven te creëren. Van jezelf kunnen zeggen dat je "goed" bent met vrouwen bent. Niet om op te scheppen, niet om indruk te maken. Maar gewoon omdat dat zo is.
Meer informatie over de Bootcamp.
VIP-TRAJECT
Het VIP-traject is een vier maanden durende reis. Een combinatie van workshops en infields met als doel blijvende groei en gedragsverandering. Geen quick fix, maar een langdurige investering in jouw persoonlijke ontwikkeling als man.
Meer informatie over het VIP-traject.
relatie seminar
Een fijne partner vinden is één ding. Een intense, intieme en fijne relatie onderhouden is iets heel anders. In deze tweedaagse seminar ontdek jij wat de fundamenten zijn die een relatie doen laten werken. Breng jouw relatie naar een nog hoger level en vermijd de zo fatale valkuilen.
Remancipeer weekend
23 tm 25 november
Samen met 22 mannen, aan de slag met onszelf. Als je serieus een aantrekkelijkere MAN wilt worden, mag je dit niet missen en er zijn slechts 22 plaatsen.
Tijdens dit weekend gaan we ons, behalve natuurlijk op MASCULINITEIT richten op jouw zelfbeeld, jouw doelstellingen in het leven, jouw omgang met vrouwen en jouw wereldbeeld. Drie dagen lang in een prachtige omgeving omringd door helden die hetzefde doel nastreven heerlijk aan de slag. Weg van de alledaagse beslommeringen leer je niet alleen enorm veel… Omdat het drie dagen duurt maak je het jezelf ook echt eigen. Zo wordt wat je leert echt onderdeel van wie jij bent.
CUBA met Tijn
Tijn zit het helft van het jaar in Cuba. Dit doet hij al jaren. Zo is hij in de loop der jaren een van de Cuba expert's van Nederland geworden. Hij neemt jou onder zijn vleugels om een onvergetelijke reis door het echte Cuba te maken.
Lees de reviews van jouw voorgangers en bekijk wat je allemaal gaat doen. Klik hieronder voor meer informatie.