John Overdurf – 2014 12 Daze Bundle – Beyond Goals 2.0 – State Bound For Change… Transforming Decisions – Glimpse into Trance of a Life Time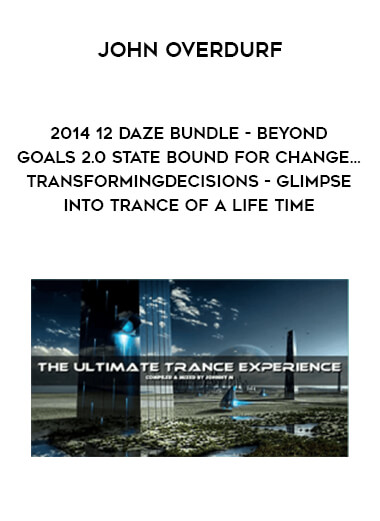 Salepage : John Overdurf – 2014 12 Daze Bundle – Beyond Goals 2.0 – State Bound For Change… Transforming Decisions – Glimpse into Trance of a Life Time
Arichive : John Overdurf – 2014 12 Daze Bundle – Beyond Goals 2.0 – State Bound For Change… Transforming Decisions – Glimpse into Trance of a Life Time
This information is truly transformative and will give you an amazing perspective for how to perceive reality on so many different levels!
This is not formal NLP or Hypnosis. This is something else.  Much of what you'll learn you won't find anywhere else. The feedback I get is this is way beyond the usual stuff, yet it has clear, learnable structures. This is the most significant material I've developed so far! It has truly effected me in the most positive ways.  I hope it will for you too.
What we're offering for this year's 12 Daze of Xmas Bundle is a heaping helping of some of the best I can offer for home study.  Each of the programs below flow into a major training you can do in the comfort of your own home.  There's very little editing, so you will get the look, sound, and feel of all the spontaneous moments and there are MANY!
Here are the best of 2018 for your conscious and unconscious learning pleasure:
Overdurfian Coaching in Action:  Changing Perspectives Through the Rhizome
Overdurfian Coaching in Action:  Splitting Synesthesias Within the Rhizome
Hypnotically Presenting Master Class:  Cultivating Rhizomatic Perception in Teaching, Training and Life