James Tripp – HTW Change work + Rapid Inductions + Clean Language Program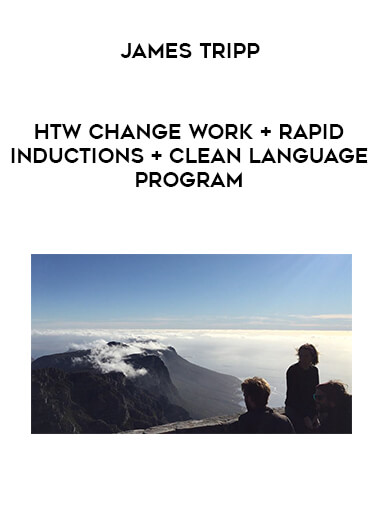 Salepage : James Tripp – HTW Change work + Rapid Inductions + Clean Language Program
Arichive : James Tripp – HTW Change work + Rapid Inductions + Clean Language Program
Who's it for?
Coaches, counsellors, psychotherapists and psychologists
Therapists and health workers
Managers and directors from all sectors – private, public and third
Teachers, parents, social workers and others who work with children
Researchers and anyone who wants to improve their ability to communicate well
If your presence and attention make a helpful difference to people, come and join us to find out how this remarkable process can enhance eveything you do.
What will I gain?
The basic Clean Language questions and how to ask them for maximum effect
Listening and questioning skills that will enhance your communications
Ways to apply the principles of Clean Language in different contexts
Simple tools for clarifying people's desired outcomes and motivating people to take action
Discover the structure beneath the metaphors we use to describe our everyday experiences
Personal development as you practise with others in the group
What's involved?
Our 1-day Introduction to Clean Language is designed to give you a 'taster' of what it's possible to achieve with this powerful methodology, along with the basic skills you need to get started. We will cover:
What is Clean Language? Why learn it?
The basic Clean Language questions
Demonstration of clean coaching
How to move from Active Listening to Accurate Listening
What assumptions you are making a split second after someone speaks
How to keep your assumptions to yourself so you can work with clients' actual experiences
Simple, practical exercises you can use in a multitude of contexts
What is a metaphor?
Why focus on metaphors?
How to spot the metaphors people use in every day language
How to uncover the structure of someone's thinking by developing the metaphors they naturally use to express themselves
Frequently asked questions
What is Symbolic Modelling?
Symbolic Modelling was created by Penny Tompkins and James Lawley when they worked with and observed David Grove over several years, to discover what he was doing to achieve his phenomenal results. They combined David's ideas with ideas from the fields of cognitive linguistics, systems thinking and NLP to produce a model which could be taught to others to enable them to achieve the same kinds of results as David.
What is Clean Language?
Clean Language is a simple set of questions developed by counselling psychologist David Grove. These questions are used with a person's own words to direct their attention to some aspect of their own experience. Asking these questions in the right context often results in an interesting new insight or the recognition of some new possibility. And if that new possibility is then questioned using Clean Language, the result can be quite profound. Clean questions invite people to consider their experience from different perspectives and they are often surprised by their own capacity to generate new, powerful and useful ideas about their own experience.
More detail
What participants say
"The workshop was a great introduction to Clean Language and how effective it can be. Marian's warm, engaging style and approach ensured that all of us were able to engage with the material – whatever our background and experience. It was really helpful to have Marian and Martina so skilfully demonstrate the use of Clean Language before having the chance to practice and get feedback."
Carol Wilkinson
"Good, practical and clear introduction to Clean Language."
Annelie Green
"Great to work in the short space of time with you; amazing what you helped us uncover, discover and practice."
Robert Henderson
"A thoroughly enjoyable training in relaxed and friendly surroundings. After only a day's training I feel ready to use the skills I have learnt and I would certainly recommend Clean Learning."
Gill Peckham
"Fab course, very interesting and gives you a very clear view of Clean Language."