Harry Keener – Crisis Counseling: Strategies and Interventions to Safely Manage Clients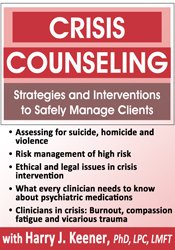 Salepage :
Harry Keener – Crisis Counseling: Strategies and Interventions to Safely Manage Clients
Arichive :
Harry Keener – Crisis Counseling: Strategies and Interventions to Safely Manage Clients
Faculty:

Harry Keener

Duration:

5 Hours 50 Minutes

Format:

Audio and Video

Copyright:

Dec 08, 2016
Description
Assessing for suicide, homicide and violence
Risk management of high risk clients
Ethical and legal issues in crisis intervention
What every clinician needs to know about psychiatric medications
Clinicians in crisis: Burnout, compassion fatigue and vicarious trauma
Clinicians must deal with mental health emergencies at an alarming rate and it is not a question of if a crisis will occur, but when.
Emergencies in mental health happen every day in all types of settings. Sadly, crisis intervention remains a neglected component of education, training and supervision in clinical preparation programs.
Now more than ever it is critical for all helping professionals to correctly assess and "triage" various types of mental health emergencies and the attendant ethical and legal ramifications of crisis intervention. Knowing practical strategies for crisis management ensures the safety of both clients and therapists. This seminar will give you these strategies.
As a seasoned clinician with years in the mental health field, Harry Keener, PhD, LPC, LMFT, will provide you with invaluable tools for assessing, triaging and managing clients in crisis. This seminar will provide the skills you need to effectively assess and safely manage crises of lethality and will improve your knowledge regarding crises due to illicit and licit medication usage.
Dr. Keener will explore the legal and ethical issues related to crisis intervention in such clinical issues as mandated reporting, psychotic decompensation in clients, and the duty to warn.
You will come away with new confidence and a reputation with your colleagues that you can:
Assess, triage and manage suicidal, homicidal and violent clients
Develop safety plans that work
Minimize crises due to psychotropic medication misuse
Protect your liability through appropriate documentation
Know the legal and ethical issues associated with crisis intervention
Handouts
| | | | |
| --- | --- | --- | --- |
| | Manual (1.94 MB) | 74 Pages | Available after Purchase |
Outline
Legal and Ethical Obligations in Crises Situations
The similarities & differences between ethical and legal responsibilities
When to use safety contracts and "no-harm" contracts
Court cases and mental health law that impact crisis management
Mandated reporting
Documentation strategies that protect you legally and ethically
Clinical Assessment of Psychiatric Disorders
Understanding and identifying psychotic symptoms
Psychiatric disorders that heighten risk of crises
Interplay of substance abuse, trauma and mental health emergencies
Assessing and diagnosing common psychiatric disorders
Psychotropic Medication and Mental Health Crises
Improve knowledge of psychotropic medications and their intended effect
Psychotic medications and dangerous interactional affects
Metabolic issues with typical and atypical anti-psychotics
Medications with narrow therapeutic rangers
How to assertively collaborate with prescribers
How to work with clients to safely manage medication side effects
Risk Assessment in Suicidal Clients
Risk versus protective factors in suicide
Identifying clients at high risk for suicide
Develop clinical safety plans
Strategies and techniques to assess suicide risk
Difference between self-injurious behavior and suicide
When to hospitalize and how
Managing suicidal clients in an outpatient setting
Psychometric suicide risk assessments
Homicidal and Violence Risk Assessment
How to safely assess the homicidal client
Maintaining safety for yourself, co-workers and clients
Identifying the types of aggression
Preparing for and managing client violence with the PAR model
Risk factors for violence
Handling threats of violence in the office, school and workplace
When and how to hospitalize
Emergencies from Substance Abuse
Assessing the chemically dependent client
Interview strategies and techniques
When to refer for medically-supervised detoxification
The multiple levels of care addiction
Strategies for assessing and working with dually diagnosed clients
Burnout, Compassion Fatigue and Vicarious Trauma: Therapists in Crisis
Burnout, vicarious trauma, secondary trauma, and compassion fatigue
Interplay between burnout and compassion fatigue
Strategies for counseling the burned out therapist
Techniques to address vicarious trauma
Use of the PRoQOL5 instrument to better inform treatment
Faculty
---
Harry Keener, PhD, LPC, LMFT, is currently the clinical supervisor at the Richmond Southside Treatment Centers and the Richmond Private Methadone Clinic which are medication assisted treatment center working with opioid addicted clients. He maintains a small private practice focused on counseling couples and families. Since 2008, he has provided clinical supervision for residents seeking licensure as licensed professional counselors and marriage and family therapists in the state of Virginia. Dr. Keener has been an adjunct instructor at Virginia Commonwealth University in the graduate program in Rehabilitation Counseling since 2007 and teaches courses on Crisis Counseling, Counseling Theories and Marriage and Family Therapy.
He has worked in the mental health field for over 19 years, providing individual, group and family counseling in a variety of settings to adolescents and adults. These setting include outpatient counseling centers, adolescent residential treatment, schools, a crisis stabilization unit, and in community mental health centers. He has presented on the local, regional, state, and national levels on topics such as male depression, clinical supervision, family counseling, and crisis counseling. Dr. Keener received his doctorate in Counselor Education (cognate family counseling) from The College of William and Mary and a Master's of Community Counseling from Loyola University of New Orleans. Dr. Keener has been a Licensed Professional Counselor and Licensed Marriage and Family Therapist in the state of Virginia since 2006.
Speaker Disclosure
Financial: Harry Keener is in private practice. He has an employment relationship with Richmond Southside Treatment Center and Richmond Private Methadone Clinic. Dr. Keener receives a speaking honorarium from PESI, Inc.
Nonfinancial: Harry Keener is a member of the American Counseling Association; and the International Association of Marriage and Family Therapists.
---