Frederic Delarue – Musical Rapture – A Healing Gift to Humanity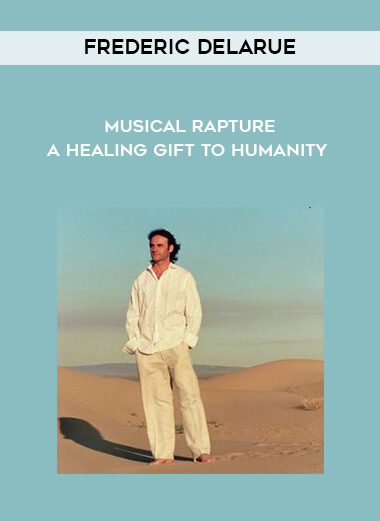 Salepage :
Frederic Delarue – Musical Rapture – A Healing Gift to Humanity
Arichive : Frederic Delarue – Musical Rapture – A Healing Gift to Humanity
I have been intrigued with and often captivated by Frederic Delarue's music since I reviewed his first American album, Voyage of the Soul, back in 2002. Musical Rapture: A Healing Gift to Humanity is Delarue's seventh release since then, and, as all of his recordings do, this one has a fascinating story. Joao Cota-Robles, the son of spiritual speaker Patricia Cota-Robles, "made his transition to the Light" the end of 2010 from a sudden pneumonia. Delarue did not know Joao personally, but he knows his parents and regularly performs his music at an annual spiritual conference Patricia organizes. When he learned of Joao's passing, Delarue felt compelled to drive to Arizona for his Celebration of Life. Joao communicated to Delarue that he would like a "Music of His Soul" CD created as a legacy of him for his family. (Delarue has been creating these CDs for people for many years.)
After the Celebration of Life, Delarue sensed that Joao wished his CD to be "A Gift to Humanity" with music that can comfort anyone (including pets) dealing with any form of cancer, a music that helps people to "raise their vibrations." On Pentecost Sunday 2011, Delarue made this recording and felt that Joao's wishes were that the music should never be bought or sold by anyone. It is being offered as a free download with permission to make copies to share with friends and loved ones at no charge. It is also stipulated that the music NOT be used as background music for guided meditations, webinars, YouTube videos, voice-overs and other recordings because recording other information over the music will interfere with the healing process and divine intent of the music. Downloads are also available from Patricia Cota-Robles' website.
The music itself is a sixty-two minute improvisation performed on several keyboards and using a variety of musical sounds – ethereal voices, strings, piano, atmospheric sounds, etc. It has a similar feeling to Delarue's live performance, which can be a very profound spiritual experience. The music is soothing, uplifting, and very relaxing; it is also very beautiful. If you haven't experienced Delarue's music before, this is a wonderful opportunity to try it for free. The download link is . A more detailed description of how the music came into being is there as well. Recommended!