Bazi Mastery Series Module 1 – Live Class Joey Yap (5 Video + 1 PDF)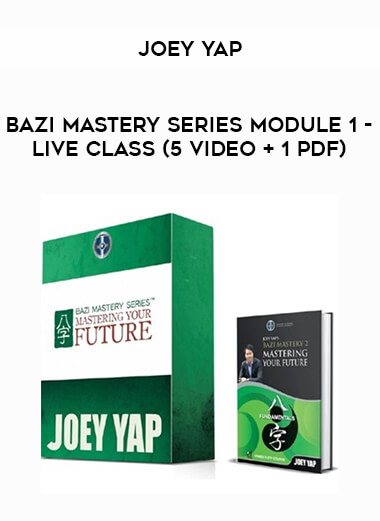 Salepage : Bazi Mastery Series Module 1 – Live Class Joey Yap (5 Video + 1 PDF)
Arichive : Bazi Mastery Series Module 1 – Live Class Joey Yap (5 Video + 1 PDF)
Deskripsi Bazi Mastery Series Module 1 – Live Class Joey Yap (5 Videos + 1 PDF)
BAZI MASTERY MODULE 1 – LIVE CLASS DVD
FUNDAMENTALS : MAPPING YOUR LIFE
HOMESTUDY COURSE
JOEY YAP
*DVD terdiri dari 5 video MP4 + Module 1 PDF
*Total durasi video lebih dari 6 jam
*Kualitas seminar video standard
*in English (no subtitle)
BaZi Module 1 (M1)  is a foundation course designed to introduce you to the basics of BaZi (Chinese Astrology). BaZi is also commonly known as the Four Pillars of Destiny. As DNA forms the biological blueprint for our bodies, BaZi is considered the 'destiny DNA' for our lives.
Module 1 offers students:
An easy-to-understand introduction to enable faster mastery of core principles and theories that constitute BaZi
The opportunity to learn essential skills that are a pre-requisite for analyzing a BaZi chart
The ability to understand underlying theories and classical schools of thought related to ancient BaZi in order to contextualise current BaZi practices
Guided closely by the instructor, students will be taught to apply all the theories and fundamentals in practical application as they study and analyse actual BaZi charts towards the end of the course. By the end of the module, students will also be able to identify Heavenly Stems and Earthly Branches, analyse Day Masters to uncover individual characteristics and attributes, and plot ten-year Luck Pillars.