Art Riggs – Deep Tissue Massage and Myofascial Release (Rolfing)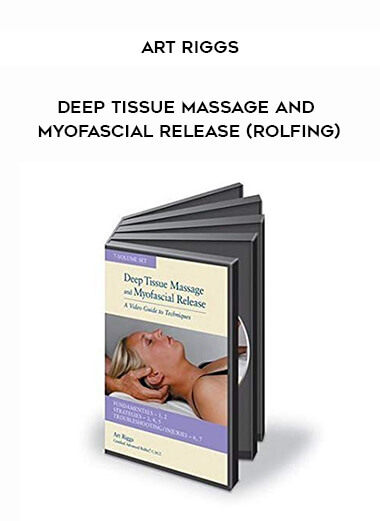 Salepage :
Art Riggs – Deep Tissue Massage and Myofascial Release (Rolfing)
Arichive : Art Riggs – Deep Tissue Massage and Myofascial Release (Rolfing)
Keith Eric Grant, PhD, NCTMB, Director of the McKinnon Institute of Sports & Deep Tissue Program
'…a superb teaching tool for the classroom and a matchless source of
clinical reference.'
Paulette and Richard Bergess, Directors, The San Francisco School of Massage
'…We highly recommend this video for massage students and health
professionals, alike…'
Massage Therapy JournalSpring 2004 Reviewed by Lisa Mertz
He is a great teacher and shares an enormous amount of knowledge and wisdomThe demonstrations of strokes are truly brilliant.
Massage MagazineMarch-April Issue Reviewed by Tom Myers (Author of Anatomy Trains)
Riggs has done an enviable jobthese videos will be a significant
contribution to your skill set.
Description
This seven volume Video series is designed as a full Deep Tissue Course which will be extremely useful to individual therapists wishing to expand their myofascial and therapeutic skills and the way they work with tissue. In addition to the complex issues of soft tissue restrictions, osseous articulations and neurological patterns, this series clearly demonstrates countless strokes and strategies. More importantly, it conveys the qualitative art of working with tissue to effect profound change.
SECTION I (Videos 1 & 2) "FUNDAMENTALS"
– Palpation and Cultivation of Touch-Working with Layers of the Body
– Body Biomechanics – How to Properly Use Fingers, Knuckles, the Fist, Forearm, and Elbow and Save Your Thumbs
– Purposeful Strokes- Strategies to Lengthen Tissue, Free Adhesions, and Release Holding Patterns
– Positioning of Your Client to Increase Effectiveness of Your Work – The Side-Lying Position to Dramatically Improve Your Effectiveness
SECTION II (Videos 3, 4 &5) "STRATEGIES OF DEEP TISSUE MASSAGE"
Hundreds of techniques and strategies covering the entire body
Video 3: Legs and Pelvis
Video 4: Continuation of the Pelvis, Rotators, Abdomen (Including the Psoas and Iliacus), and the Back
Video 5: Working with the Shoulder Girdle, Chest, Arms, and Neck
SECTION III (Videos 6 & 7) "ADVANCED TECHNIQUES AND STRATEGIES FOR COMMON COMPLAINTS AND INJURIES " (Videos 6 & 7)
– Foot/Ankle Injuries Including Sprains, Plantar Fasciaitis, Achilles Tendonitis
– Knee Pain and Dysfunction
– Sciatica
– Minor Back Pain
– Rotator Cuff
– Tennis Elbow and Wrist
– Thoracic Outlet
About the Actor
Art Riggs is a Certified Advanced Rolfer® and massage therapist who has been teaching bodywork since 1988. He has worked with several Olympic athletes, professional football and basketball players, and professional dancers and musicians to treat injuries and to improve performance. He has conducted numerous workshops for health spas and for medical professionals, including physical therapists, and has assisted in Rolf Institute trainings.