A Century of Recorded Poetry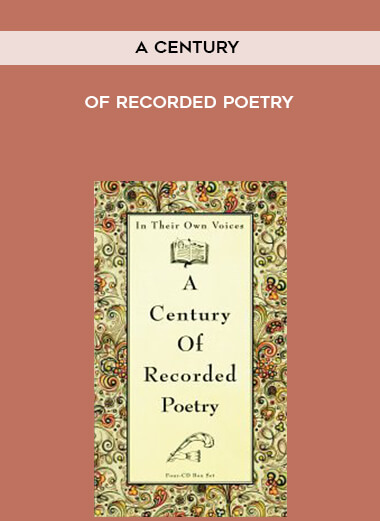 Salepage :
A Century of Recorded Poetry
Arichive : A Century of Recorded Poetry
This four CD set, including book contains recorded poems by some of the following poets: Walt Whitman, William Butler Yeats, Gertrude Stein, Wallace Stevens, Marianne Moore, Ezra Pound, Edna St. Vincent Millay, Robert Graves, Steven Vincent Benet, Langston Hughes, Ogden Nash, Stanley Kuntz, W.H. Auden, Theodore Roethke, Stephen Spender, May Sarton, Muriel Rukeyser, David Ignatow, William Stafford, John Ciardi, William Meredith, Robert Lowell, Lawrence Ferlinghetti, Charles Bukowski, Howard Nemerov, Mona Van Duyn, Richard Wilbur, Jack Kerouac, Lisel Mueller, John Ashbery, Galway Kinnell, W.S. Merwin, James Wright, Anne Sexton, Maya Angelou, Richard Howard, Adrienne Rich, Derek Walcott, David Ray, John Updike, Sylvia Plath, Dan Jaffe, Amiri Baraka, Leonard Cohen, Audre Lorde, Marge Piercy, Mark Strand, Paul Zimmer, Lucille Clifton, Diane Wokoski, Michael Harper, Charles Simic, Al Young, Joseph Brodsky, Erica Jong, Joseph Bruchac, Sharon Olds, Tess Gallagher, James Ragan, Anne Waldman, Adrian Louis, Juan Felipe Herrera, Carolyn Foorche, Edward Hirsch, Joy Harjo, Carmen Tafolla, Jimmy Santiago Baca, Rita Dove, Donald Revell, Luis Rodriguez, and Li-Young Lee.